We're really excited to share the Squirrels programme with you!
Each badge is packed with wow and wonder, perfect for anyone who's ever asked 'Why?' (or 'Why not?'). You'll tell stories and play games. Get active and explore the outdoors. Become a brilliant builder and a super chef. There's something for everyone – and that means that there's something for you.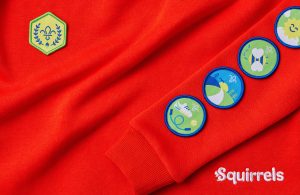 When designing the badges and activities for Squirrel Scouts, our goal was to create:
an age-appropriate programme,

that meets the Theory of Change,

and is respected by Early Years practitioners,

without compromising our Scout values, ​

which encourages community and home learning,​

and works in areas of deprivation and for diverse ethnic communities.
To do this, we wrote, tested and updated a programme proposal with nearly 400 people to create badges full of adventure, fun, and, of course, skills.
Using these insights and feedback, we designed a curriculum consisting of:
12 Activity Badges

four Challenge Awards

a Top Award

a Membership Award

a Joining In Award

a Moving On Award
We also decided that Squirrels would be able to earn Staged Activity Badges.